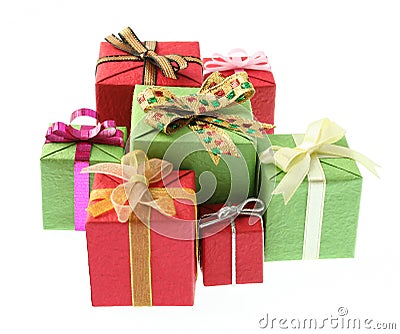 Tired of the same old selection of gifts from the same old selection of stores? Surely I can't be the only one who recognizes the irony of trying to shop for unique/meaningful/personal gifts at big-box stores that tailor to uniformity?
One solution is to shop via novelty catalogs - except that novelties that appeal to one person on your list rarely appeal to anyone else. (Also, I have a pretty low tolerance for "gag" gifts, the staple of too many novelty catalogs - they're funny for about a minute, after which they just become a waste of money.) Another solution is to shop at quirky small businesses: this can be wonderfully rewarding, except that it's getting difficult to find these types of stores anymore. A third option is to create homemade gifts, which is a lovely alternative ... if you have that kind of time.
Over the years I've enjoyed challenging myself to identify gift options that go "beyond the box" - or at least "beyond the big box store". The following list pulls together a number of my more successful inspirations. If you have other ideas for unique gifts, please share them in the comments section below - can always use new ideas!
Baskets/kits.

Two reasons baskets/kits make great gifts: (1) you can customize them to suit all ages, genders, interests, special needs, and budgets; and (2) they allow you to combine many small gifts, which is often easier than coming up with a single "big" gift idea. Indeed, this is such a versatile idea, I've devoted a whole separate post to lists of possibilities. Yes, there are companies out there that specialize in making these, but I suggest you consider taking the initiative and choosing a selection of items that your giftee will find meaningful and useful.

Storage.

Almost everyone could use more storage. What woman couldn't use one of those hanging jewelry holders for sorting/storing their bling? What man can't find a use for a bucket caddy for their tools? What apartment dweller wouldn't be grateful to receive a compact gift-wrapping storage solution? (Need ideas? I recommend the Container Store website.)

Pets.

It's a risk, but under certain circumstances, pets can make a lovely gift.

Aquariums/fish bowls are relatively low maintenance (betas are the lowest maintenance of all); alternatively, you might consider hamsters, birds, hermit crabs, butterflies ... even colorful frogs.

When my sister moved into her first "solo" condo (no roommates), I gave her a fish in a bowl, just so she would have someone to talk to when she came home.

She's been thanking me for years.

Plants.

If a pet seems like too much, what about a plant?

An indoor herb garden or mushroom farm for a cooking friend? An exotic plant for their house or office? A bonsai tree for someone who needs a little inner peace? Even friends with brown thumbs will have trouble killing a terrarium.

Subscriptions.

Give the gift that lasts all year: a subscription to a movie service, television service, or magazine.

A 6-month subscription to Netflix, for instance, is surprisingly inexpensive.

If they're a sports nut, perhaps a year-long subscription to a sports cable channel might be appreciated.

And don't diss magazines as cheap: once you look beyond the drug store display, you discover that there is a whole universe of high-quality specialty magazines out there, covering almost every conceivable interest.

Tickets.

Do you have any local entertainment venues?

Check their upcoming events and consider giving the gift of tickets.

Because shows are one of those things people tend to cut from their budget when things get tight … imagine how much pleasure your giftees will derive from being able to attend something special without having to feel guilty about spending the money!

Life-long Learning.

Sign them up for a class to learn more about something they've always wanted to do: arranging flowers, woodworking, decorating cakes, using photoshop, decorating cakes, playing piano, ballroom dancing, sewing, tennis, singing, creative writing, etc.

Because you're never too old to enjoy learning.

The Gift of Nostalgia.

Give the gift of memories: take the time to track down an item that will remind them of their history. If you know them well, pick something that reminds them of the town where they grew up (a book, a calendar, a framed photo). If you know them less well, consider a gift that will evoke the decade in which they were teenagers - a collection of music, movies, food, or books representative of the decade. Finally, there are lots of "the year you were born gifts" to consider: everything from gorgeous leather-bound original copies of the front page of the New York Times from the day they were born to those ubiquitious "The Year You Were Born" books in stores like Hallmark.

Books.

There's a book out there for everyone, even folks who don't like to read.

Simply make a list of things that interest your giftee (travel? hobby? geneology? crafting? zombies? politics? humor?) and head to your local book store to see what's available.

If your giftee is a bookworm but you don't know what they have, consider an autographed book by a favorite author or a "theme" gift comprising books that all have something in common: they're all funny, or romantic, or related to a particular period in history. Don't forget to look in the "book accessories" section either: often book stores carry a selection of book lights, lap desks, blank books, and bookends that work as gifts in and of themselves.

Ties. No, I don't mean those awful ties sporting snowmen, tikis, or bikini-clad women.

You'd be surprised at the number of online companies offering high-quality ties with designs that tastefully, subtly "nod" to any number of hobbies/passions.

For instance, I recently bought my history buff son a tie imprinted with scenes from the Breaux tapestry depicting the Norman conquest, and a colleague of mine in the science department has a whole collection of science ties (periodic table, DNA, molecules), and a lobbyist relative of mine enjoys ties with a patriotic theme.

Teeshirts.

Again, not talking tacky (though sometimes tacky can be fun).

You're a quick internet search away from tasteful, witty teeshirts appealing to every imaginable career/passion/hobby/age/predilection. (A search on "literary teeshirts", "video game teeshirts" or "Dr. Who teeshirts" is probably all it will take to direct you to an appropriate website.)

Framed share of stock.

Pick a company that your giftee would find meaningful and buy them a single share of stock, suitable for framing.

I once bought my husband a single share of Home Depot stock, in recognition of the time and money he's spent there in the process of restoring our home. Now, every time he treks back to the store to pick up something he forgot to buy, he at least has the satisfaction of knowing he's boosting his own dividends!

The Gift of Generosity.

In their name, donate to a cause that they are passionate about.

Various online charities will allow you to donate to animal shelters, poverty relief, war relief, environmental protection, and other eminently worthy causes.

Umbrellas.

This may sound like a bit of a dud, but think about it: can anyone have too many umbrellas? Even if you have one for the house, you could always use another for the car, and still another for work .... These days you can choose from a wonderful selection of styles, from dashing Burberry-plaid brollies to whimsical "raining cats and dogs" models for toddlers. FYI, golf umbrellas make a great gift for mothers with small children - they're large enough to provide cover for two!