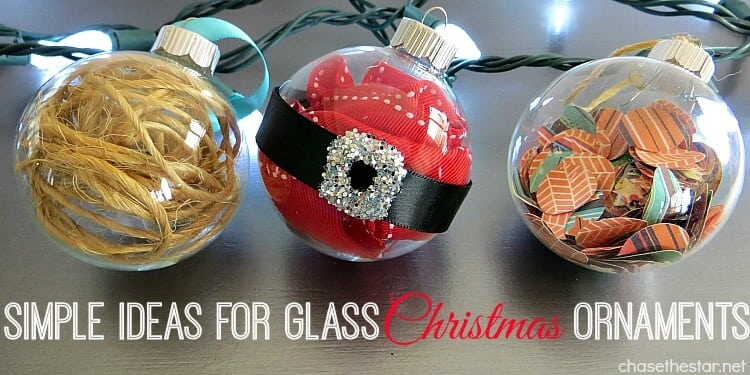 Is there anything more traditional than a Christmas tree dripping with sparking glass ornaments in the shape of balls and stars? There are lots of beautiful options available in stores this time of year, but us "crafty types" often enjoy the challenge of creating our own.
Sometimes I start with pre-colored ornaments (I'm particularly partial to the ones with a satiny finish) and add decorations to the exterior; other times, I purchase the transparent glass versions and stuff them with all sorts of embellishments and notions.
I keep a running list of techniques I've tried and techniques I'm looking forward to trying, which I'm officially sharing here in hopes my list may inspire others. Some of these techniques you're sure to recognize, as I've borrowed my inspiration from magazine or internet photos - others, however, are (as far as I know) entirely the product of my overactive imagination.
Enjoy!
Seasonal/natural ornaments
Beach Ornament 1.

Fill ornament with small seashells and sand.

Each time you shake it you get a whole new beach! Option: Encase ornament in fishing net (gives the ornament a sort of rustic "buoy" look)

Beach Ornament 2.

Stain exterior of ball with aqua or blue transparent glass stain.

Dangle silver beach charms (check the jewelry section of your local craft store) from thin silver chains attached to top of ornament.

Top with matching bow.

Option: fill with aqua/green glitter to mimic rolling waves.

Option: fill with silver tinsel to mimic the glitter of sunshine off water.

Beach Ornament 3.

Stain exterior of ball with aqua or blue transparent glass stain.

Add horizontal stripes of glue.

Apply sand and let dry.

Option: Embellish with sea glass and sea shells

Snowball Ornament.

Coat ornaments in adhesive and dip them in epsom salts.

After you've applied the salts, apply a light layer of clear or colored glaze to keep the salt from falling off over time.

Snowy Day Ornament.

Draw/glue/etch snowflakes on glass and fill ornament with "snow" (pearly sequin-type "snow" sold in most craft stores).

Add penguins, brush trees, or snowman parts to add interest

Terrarium Ornament.

Fill with moss and a tiny air plant.

Mistletoe Ornament.

Dangle sprig of mistletoe from top of ornament.

Paint the word "love" on the outside of the ornament.

Acorn Ornament.

Attach acorn shells to the exterior, completely covering ball.

Option: paint shells first with glittery glaze so they sparkle!

Holiday Spice Ornament.

Fill ornament with holiday spices: dried orange slices (or, cut dried orange peel into small strips or stars), aniseed stars, cinnamon sticks, cloves

Holiday Greenery Ornament 1.

Fill ornament with holiday greenery (ex: holly, pine or rosemary stems, cranberries, pinecones, cinnamon sticks). Option: add small letter beads glued together to form a holiday message (ex: Joy, Peace, Noel)

Holiday Greenery Ornament 2.

Leave ornament clear and empty, but top with an exuberant display of greenery, ribbon, and other seasonal decorations (premade stems from craft store are good for this)
Fabric/ribbon/button balls
Fabric-Wrapped Ornament.

Cut out appropriate sized square of fabric in holiday print. Spray ball with tacky glue.

Wrap fabric around ball, gathering at top.

Secure fabric with bow.

Option: Insert picks of seasonal greenery into the bow to add interest.

Crochet/Macrame Ornament. Crochet or macrame a doily of appropriate size (directions available on internet), and then follow directions above.

Ribbon Ornament 1.

Completely wrap ornament like a mummy in strips of thinnish (~1-2cm wide) rustic ribbon (ex: cotton, muslin or burlap).

Work vertically, horizontally, or randomly.

Ribbon Ornament 2. Partially wrap ornament in a pattern composed of thin, decorative strips of satin/velvet ribbon, working vertically.

Glue large bow and jingle bell to the bottom of the ornament – looks good AND helps camouflage glue marks

Ribbon Ornament 3.

Paint ornament a deep or bright color.

Wrap matching piece of pretty ribbon (plaid works well) around the equator.

Option: add embellishment (ex: rhinestone, decorative button, sprig of seasonal greenery)

Twine/Yarn Ornament. Wrap ornament completely in twine or yarn. Experiment with wrapping the ornament partially (to show off a filling or paint color) or entirely.

Optional: Poke knitting needles through the yarn when done.

Option: Wrap entirely in flat (non-overlapping) rows and stamp designs on twine with black ink

Fringe Ornament. Paint the ornament a bright or dark color.

Glue colorful fringe around the middle.

If "hem" of fringe is unsightly, conceal beneath a ribbon or row of rhinestones.

Tulle Tutu Ornament.

Paint ornament a deep or bright color.

Wrap narrow elastic strip around equator of ball.

Anchor with small drops of glue, widely spaced.

Allow glue to dry.

Slip strips of tulle under elastic, "bunching" the tulle as you go along, until ball is surrounded by colorful "tutu"

Notions Ornament.

Fill ornament with buttons & half-wrap in yarn. Option: use white/pearl buttons and wrap equator with lace ribbon for Victorian look.

Tassle Ornament.

From the top of the ornament dangle a seasonal tassel, either purchased or crafted by hand from yarn or strips of paper.

Add sequins or other embellishments for interest.
Embellished Ornament. Affix scrapbooking embellishments (ex: wood, ceramic or paper cut into seasonal shapes) to the exterior.

Consider adding glitter glue patterns or rhinestones to add interest.

Mosaic Ornament.

Glue bits of broken pottery or mosaic tiles to create pretty seasonal pattern.

Option: Use chopped-up bits of shiny CD to create "disco ball" effect

Button Ornament. Coat exterior of ornament in buttons.

Option: use different shapes/textures but paint them all the same (or similar) colors.

Option: stick to one color but choose buttons of various shapes and textures

Collage Ornament.

Use mod-podge to create a collage.

Ideas for media: maps, sheet music, newspaper, vintage or retro ephemera.

Option: after complete, sprinkle with glitter and coat in glaze.

Option: add tag dangling from top of ornament

Stained Glass Ornament.

Use mod-podge to attach scraps of tissue paper to create "stained glass" effect.
Painted Ornament.

Paint ornament a solid color. Wait until dry.

Then use other colors to create a design (plaid, swirls, polka dots, stars, snowflakes, etc.) or scene(white trees against dark sky with bright stars; reindeer pulling sled; your house in the snow; silhouette of child; etc.)

Mercury Glass Ornament.

Paint ornament to resemble mercury glass (see internet for instructions)

Swirled Ornament.

Fill ornament with 2-3 colors of acrylic paint and turn/tilt the ornament to create a "swirled" look (see internet for instructions).

Option: use "pledge furniture polish method" – also explained on internet.

Chalkboard Ornament.

Paint exterior of ball with chalkboard paint.

Use chalk or chalkboard pens to create designs.

Consider using

traditional "chalkboard fonts"

Etched Ornament.

Spraypaint balls with white glaze and then scratch a design (small stars,

swirls, or polka dots) into the glaze

Twine-Wrapped Ornament.

Wrap ball 3-4 times in random fashion with twine.

Spraypaint ball.

Remove twine when dry.

Creates a cool striped effect.

Dimensional Ornament.

Draw patterns on the ornament in "puffy paint."

Paint ball a solid color.

Creates a cool dimensional effect!

Option: Before paint is dry, wipe ornament gently with rag to create shading

Stained Ornament.

Dip bottoms of ornaments in liquid glass stain to create sophisticated shaded effects

Crayon Ornament. Fill ball with crayon shavings. Rock until shavings adhere to all sides. Discard remaining "loose" shavings. Using hair dryer, evenly heat ball until shavings melt, creating collage effect. Top with multicolor ribbon bow to accentuate the colorful effect!

Cracked Crystal Ornament. Use ModPodge and Epsom salts to create ornament that looks fashioned of cracked glass (see internet for more precise instructions)

"Primitive" Cracked Paint Ornament. Select black or neutral-tone ornament. Apply crackle paint and allow to dry. Top with gingham bow. Option: After paint has dried, add primitive design (ex: star, heart, cross) - use paint or cut one out of matching gingham and glue.
Glitter/bead/rhinestone balls
Glitter-Dipped Ornament.

Apply adhesive to

bottom half of ornament and dip it in glitter.

Option: use clear balls or paint them first.

Glitter-Patterned Ornament.

Create patterns with glitter glue.

Option: fill ornament with tulle, glitter or other filling in complementary color to add depth.

Sequined Ornament.

Create patterns/swirls in glue and affix sequins or tiny beads to the glue.

Allow to dry.

Rhinestone Ornament.

Create designs using crafting rhinestones (ex: scatter them randomly, form them into horizontal stripes, organize them into snowflakes, or arrange them to mimic snow melting from around the top of the ornament).

Recommend using colored glass balls for this one, so you won't see the backs of rhinestones secured to the other sides of the ornament

Freestyle Ornament.

Draw patterns (polka dots, snowflakes, initials, seasonal messages, etc.) on your ornaments with sharpie markers.

Option: use sharpies in metallic colors

Monogram Ornament.

Create a monogram ornament by drawing initials on the exterior (lots of patterns available on the internet) and then filling the interior with glitter, ribbon, tinsel, pearls, or the like.

Beaded Ornament.

Wrap ornament in beaded wire.

Use glue to secure wire at intervals
Shredded Paper Ornament.

Fill ornament with strips of shredded patterned paper.

(Vintage sheet music works well for this.) Option: curl paper before adding

Tulle Ornament.

Fill ornament with colorful tulle (aka "tutu fabric"!).

Top with exuberant bow of same or complimentary color

Feather Ornament.

Fill ornament with colorful feathers.

Top with exuberant bow of same or complimentary color

Tinsel Ornament. Fill ornament with tinsel, then draw glittery polkadots of the same or a complimentary color on the glass

Felt Ornament.

Create felt cut-out (3D snowflakes, pinecones, ,presents, trees, mistletoe, bell, hearts; or, 2D reindeer heads, mittons, skates) and dangle them from top of ornament.

Add glitter, snow, beads, or greenery to add interest

Cross-stitch Ornament.

Create small cross-stitched designs, mount on colored paper, and insert into ornament.

Snow, beads or greenery to add interest.

(Not glitter – will stick to the fabric and obscure your design!)

Jingle Bell Ornament.

Fill ornament with small jingle bells.

Option: paint bells first (ex: traditional Xmas colors, pastels, or "brights")

Pearl Ornament.

Fill ornament with pearls, either loose or strung.

Top with white faux fur and thin pastel ribbon bow – looks great with the pearls! OPTION: Consider mixing "pearls" of different colors and sizes

Candy Ornament. Fill with red/green/white candies (ex: sprinkles, m&ms, specialty candies made for gingerbread houses) or bits of candy cane.

Food Ornament. Fill (or partially fill) ball with coffee grounds, tea leaves, chocolates, marshmallows, popcorn, or dried fruits. Option: Dangle complementary embellishment from top of ornament (ex: teabag, mini coffee cup). Option: paint explanatory quote or text on outside of ornament.

Paper Snowflake Ornament.

Fill ornament with tiny paper-cut snowflakes

Poinsettia Ornament.

Stuff ornament with mini-poinsettias (paper or plastic

Origami/Paper Ornament.

Dangle a miniature 3D shape crafted from paper (ex: origami) from top of ornament.

Add snow, sequins, or colored beads for interest.

Season's Greetings Ornament.

Purchase a seasonal greeting (joy, merry Christmas) cut out of paper (or create your own using a cricut machine).

Place inside ball.

Add snow or small beads. Option: dangle smaller words from thin ribbons attached to top of ornament.

For instance, if inside sentiment is "Hohoho," you might add "Santa," "Jolly," and "Merry"
Graduation Ornament.

Fill ornament with the tassel from your high school or college graduation. Option: add ribbon or curls of paper in school colors

Wedding Ornament.

Fill ornament with tokens from wedding (ex: dried florals from bouquet, tokens from centerpieces, birdseed, clipped netting from wedding gown, curled sheet music strips from wedding song, etc.) and top with a bow (or tulle) from the bride's bouquet.

Advent Ornaments. Use paint or sharpies to number ornaments 1-25, then knot them at regular intervals along a length of ribbon or twine to create an advent countdown swag.

Dangle across window or fireplace mantle, or wrap around a wreath or small tree.

New Baby Ornament1.

Dangle a baby-themed embellishment from top of ball. On the outside, paint or draw "Baby's First Christmas".

New Baby Ornament2. Fill ball with mementos from baby's birth - first hospital "baby hat" and/or socks, hospital wristband, sonogram picture, etc. Option: add beaded wristlet with baby's name. Option: add painted pink or blue dots on outside of ornament.

Career Ornament. Fill ball with tokens that represent your profession. (Teaching= apple, pencil, mini-chalkboard; Nurse=paper hat, capsule, bandaid) Option: add painted sentiment to outside

Family Memory Ornament1.

Fill ornament with treasured family photograph.

Add beads or sequins for interest.

Family Memory Ornament2. Dangle from top of ornament tiny cutout (use actual map or kraft paper) of state/country where family used to live. Option: Add small painted heart indicating exact location of family home. Option: add small tokens symbolizing the state/country. Option: paint text quote or explanation on outside of ball.

Time Capsule Ornament. Create a "time capsule" ornament by filling the ornament with small charms/toys/tokens that represent major events of the year.

Add text on a paper scroll, rolled tightly.

Insert all and paint the year on the glass.
Character/novelty ornaments
Hot Chocolate Ornament.

Fill bottom half of ornament with hot chocolate.

Fill top half with mini-marshmallows.

Optional: add tag dangling from top that reads "Warm cocoa warms the heart" (or similar sentiment)

Cupcake Ornament.

Paint ornament a cheerful color.

Glue matching cupcake cup to bottom of ball.

Drizzle paint "icing" over top of ball.

Decorate with "sprinkles" (colored beads) as desired.

Santa Belly Ornament.

Paint the ornament red, wrap a thin black ribbon around the middle, and add a belt buckle fashioned out of felt or pipe cleaner – instant Santa belly.

Snowman Ornament.

Paint the ornament white and add a snowman face – instant snowman head!

I Spy Ornament. Fill ball with small Styrofoam beads and a collection of tiny holiday objects: miniature candy canes, snowmen, mittens, etc. Type up "Can You Find These?" list and add to contents.