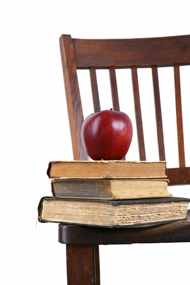 Educational Consulting.

Educational consultants administer testing and provide other evaluation services for students, especially students with special needs. Some tests you can administer without certification; others will require training and certification. However, for those who are trained in the tests that are most in demand, this can be a lucrative career.

Educational Advocacy.

Educational advocates help parents - especially the parents of students with special needs - ensure that their students are receiving the education and protections guaranteed by federal, state and local law. Prerequisites include a good knowledge of educational law, strong negotiating skills, and a desire to advocate for the needs of students.

Proctoring/Grading.

State and national testing companies are always looking for folks to grade the essay portions of standardized tests. If you just can't get enough of overwrought undergraduate prose, this might be the ticket for you.

Test Prep.

Speaking of standardized testing, the companies that prepare students for high stakes standardized testing (SAT, LSAT, etc.) are always looking for teachers willing to teach their test-prep courses. This is a nice gig because they supply the curriculum - all you have to do is teach it.

Create curriculum.

Create worksheets or other materials for online or paper publishing companies.

Literary Analysis/Review.

Write essays for publishers of literary analysis (ex: Cliff Notes, Sparknotes, online providers).

Tutoring.

Offer tutoring services as an individual or through a for-profit tutoring center (ex: Huntington Learning Center, Sylvan Learning Center).

Adult and Community Education.

Most school systems offer adult and community education. Courses offered often go beyond tradition school subjects to include IT, creative writing, finance, resume writing, college essay prep, fine arts, music, and more. These classes provide a great opportunity for teachers to work with students who have a genuine passion (or need) for the subject they are teaching.

Create a "homework helper" website.

If face-to-face tutoring isn't for you, create a website that (for a small yearly fee) will provide homework assistance for students. To add value, create downloadable flash cards, worksheets, and other resources.

Homeschooling.

Groups of homeschoolers may be interested in classes offered by a certified teacher but offered outside of the constraints of the public school system. Demand is particularly high for those able to teacher higher-level content courses such as chemistry, physics, algebra, geometry, and foreign languages.

Online Education.

More and more school districts are beefing up their online offerings to make up for constrained funding available for summer school, summer enrichment, and homebound education, increasing the demand for certified teachers willing to teach such offerings.

English as a Second Language instruction.

There aren't too many communities these days that don't have a pocket of immigrants needing to increase their English skills. There's no need to speak a foreign language to be an ESL teacher. However, if you haven't taught ESL students before, be sure to spend some time researching best practices, as this type of instruction requires skills that go beyond traditional teacher training programs.

Proofreading/Technical Writing.

A great career for you English/journalism/creative writing teachers out there. People who "speak science" often possess lousy English skills: thus the need for people with solid writing and grammar skills to polish their technical papers, proposals, and professional materials.